Online Counseling (Telepsychology) for Kansas & Missouri Residents
If you're looking to get relief from anxiety or depression through psychotherapy with me but can't make it to my Overland Park office for appointments, online counseling (telepsychology) may be a good fit for you. Since opening my practice in 2015, I've helped non-local clients from Kansas and Missouri build resiliency and achieve freedom from their anxiety and depression and other co-occurring problems through telepsychology.
More recently in light of the ongoing COVID-19 pandemic, I've opened up my online counseling services to local clients in Overland Park and the greater Kansas City metro who feel more comfortable using teletherapy than meeting in my office.
Telepsychology, which you might have heard called names like teletherapy, telehealth, online counseling, or virtual therapy, is an option for psychotherapy that allows you to talk with me from the comfort of your own home. Using an online video chat platform, you can receive the same effective Cognitive Behavioral Therapy (CBT) treatments, using your computer, tablet, or smartphone.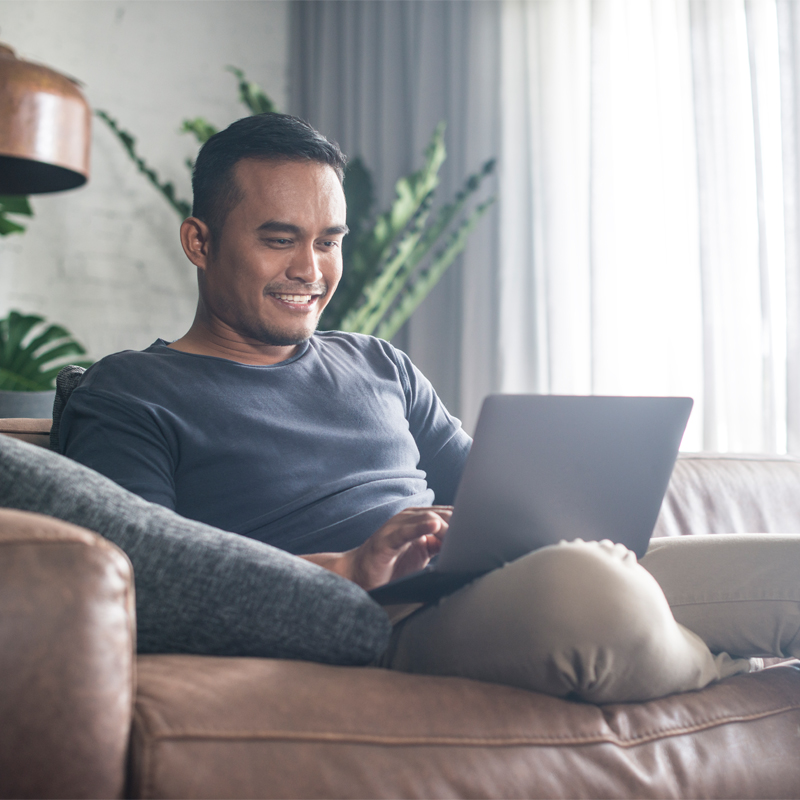 How Does an Online Counseling Session Work?
If you've had a video chat with a friend or loved one via FaceTime or a work conference call using Zoom, you're already familiar with the concept. To conduct the teletherapy session, you'll need a computer, smartphone, or other device that has a strong internet connection. These devices will also need a camera, microphone, and speakers, so we can see and hear each other. I recommend finding a private space in your home or office, preferably with a door you can lock, to conduct your virtual session. I will also be in a private location. Once we're both on the video chat platform, you will conduct your psychotherapy session just like you would in the office.
Is Telehealth Therapy Private & Secure?
I make every effort to keep your telepsychology session private and secure. I use a video platform that is HIPAA compliant, conduct sessions in private areas, and always use devices with password protection. If you do the same, your online session should be just as secure as any in-office visit. If you want help keeping your telehealth therapy session safe and secure, please don't hesitate to ask. I'll be happy to provide you with tips to ensure your teletherapy session information remains private.
Schedule Your Introductory Session
If you're interested in learning more about Gaughan Psychological Services or what it's like to work with me, please get in touch. We'll get started with a short, complimentary consultation over the phone. This session gives you the opportunity to ask questions and discuss your psychotherapy solutions before your first full session. It's a great first step toward investing in your long-term goals.
Getting Started with Psychotherapy
I do my utmost to make the intake process simple and stress free. When you contact Gaughan Psychological Services, we'll begin the psychotherapy process with a complimentary phone consultation to discuss the issues you are seeking help with, questions you may have about the practice, and whether we might be a good fit to begin work together.
To schedule the initial consultation:
Please call (913) 562-9588 or email me at drg@kcpsychologist.com
Leave your name, phone number, and a few good times to reach you that you'll have enough privacy to briefly discuss the issues you hope to work on in therapy.
I will return your call, typically within 24 hours unless you have specified another time, to conduct the free brief consultation that lasts about 10 minutes.
Fees & Payment
Payment may be made by debit/credit card, HSA/FSA card, check, or cash and is collected at the time of service.
If the price of treatment is the only thing getting in the way of starting work with me, I invite you to contact me. There are options available to help those with need to fit the cost of psychotherapy into their budgets. It is my goal to offer as much flexibility and accessibility as possible to ensure those who would benefit from psychotherapy can work with me.
Additionally, I encourage individuals to think of psychotherapy as a short-term investment in long-term happiness. Therapy involves a significant commitment of time and money but also gives you the tools to achieve relief that lasts. My goal with every client is to help them to become their own therapist, so they can effectively manage their anxiety or depression on their own.
Individual Psychotherapy Session
45 minutes: $185
Sessions will typically be scheduled for 45 minutes. Occasionally, we may decide to continue with a session beyond your 45 minute appointment, rather than stop or postpone work on a particular issue. Extended sessions will generally be charged on a prorated basis in 15-minute increments.
Insurance
I am considered an "out-of-network" provider, and I don't participate in any insurance plans. Although I don't accept insurance as a form of payment, many insurance plans will reimburse their members a percentage of out-of-pocket expenses after a deductible is met, and you may be able to seek reimbursement from your insurance company for your treatment depending on your coverage.
Through my patient portal, you can access and download a billing statement for your sessions that includes all the information necessary to submit a claim to your insurer to apply for reimbursement. You will then be reimbursed directly by your insurance company based on the terms of your policy.
Please keep in mind that if you choose to utilize your insurance, a psychiatric diagnosis is typically required for reimbursement.
If you plan to independently file claims for reimbursement, I recommend you contact your insurance company to better understand your benefits and reimbursement procedures. You can start by asking:
Do I have out-of-network behavioral health benefits to see a psychologist?
If so, what is the coverage amount per therapy session?
Do I have a deductible for mental health benefits (a deductible is a set amount that you must pay before your insurance company begins providing benefits)?
If so, how much of the deductible have I met?
How many therapy sessions are covered, and for what time period?
How do I submit requests for reimbursement?
For Medicare Beneficiaries: Please note that Gaughan Psychological Services is not a covered provider under Medicare. Medicare-eligible patients may not seek reimbursement from Medicare or their supplemental coverage for services provided.
Notice of Privacy Practices
The Notice of Privacy Practices provides information about your rights and protections related to the use and disclosure of your identifiable health care information. You can download and read the Notice of Privacy Practices below. Since you will complete all necessary forms, including the Notice of Privacy Practices, using the patient portal, there is no need to print and complete this document unless you would like to do so for your own records.